Featured Breeder
Toshiyuki Sakai(Yamamatsu Koi Farm)

---

Yamamatsu Koi Farm otherwise known as Matsunosuke, won the championship at the All Japan Combined Nishikigoi Show in 1955 for his Taisho Sanshoku (Sanke). Sanke became the trademark of Matsunosuke. Currently, many breeders use Matsunosuke's Koi as Oyagoi, and a Matsunosuke genealogy brand was established.

---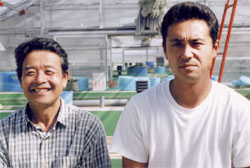 My family was a small farm family that produced a small quantity of rice. We had Nishikigoi, too, but we didn't do more than keeping Koi fry in the rice paddies. I started working after I graduated from junior high, but I just couldn't have hopes of growing rice in the rice paddies that we owned at the time. I wanted to pursue my dream. It all started when I leased the rice paddies from my father and turned them into ponds with the proviso that I would pay with the revenue of producing rice. I was set out for rice production of more than a megaton only in Niigata. People thought I was crazy.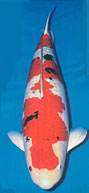 The first varieties I bred were Yamabuki Ogon and Aigoromo. Normally, the koromo appears when the Koi grows older, but for breeding Aigoromo, I used Oyagoi in which koromo appears at an early stage. Within 3 years, I succeeded in producing Aigoromo with koromo that appears from the Tosai stage. I also bred Sanke, but about 30 years ago I happened to hear people saying that "Matsunosuke's Koi don't grow." So I set my mind on producing big Koi. In the meantime, my brother who runs a Koi farm in Yamanashi Prefecture purchased a good female Sanke, so I bred her with my male Koi, and their offspring did grow big. But their bodies were still too slim, so I took a chance and crossbred a 1m 30cm (52-inch) female Magoi with my Sanke. The first offspring had only black spots, but little by little they turned into big and thick Sanke. A few years later, I won the championship at the All Japan Combined Nishikigoi Show. It's been 20 years since the Matsunosuke Sanke brand was established. I have been putting in lots of effort in quality since then. Especially my son, Toshiaki, has a stubborn artisan spirit, so he feels much for quality. Since his elementary school days, Toshiaki brought home male and female goldfish and mated them, so I assume it was just natural for him to become a Koi breeder. He started working right after graduating from high school. He focuses so much on quality that sometimes I have to remind him to be aware of body conformation.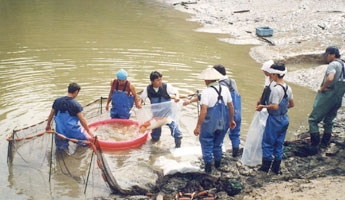 When you come to understand how to appreciate Koi, you will see that our Nishikigoi are big and long and have thick, shiny and long-lasting Hi. Pursuing the ultimate quality is our pride as breeders of the birth land of Nishikigoi. We always work with the professionalism of putting all our efforts in raising one Koi.

The patterns of Koi do not always grow as the Koi become older, so we raise them by imaging them at a length of 80 to 85cm (32 to 34 inches). Our longtime clientele understand that and buy our Koi, but we would like for other Koi lovers to raise and love our long-living Koi as well. I have raised my Koi with much care. I hope Koi lovers will learn how to distinguish Tategoi and will take good care of and enjoy raising our Nishikigoi for a long time. By doing so, Koi raising will become more enjoyable, and you will become fonder of them. And we will do our best in producing the best Koi to live up to everybody's expectations