Featured Breeder
Shoichi Hosokai (Hosokai Koi Farm)


---

Mr. Hosokai, a farmer-turned-Nishikigoi breeder, is now one of the leading breeders of Niigata. He has succeeded in raising Asagi in argilliferous soil which is generally said to be unsuitable for Koi and has won various awards with them. He is currently producing many splendid Koi from Goshiki oyagoi.

---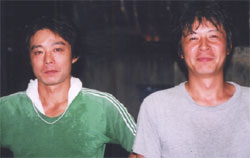 In 1970, to restrain excessive rice production, the government gave out rewards to those farmers who stopped rice cropping. We were a farm family at the time, and instead of producing rice that would go to waste, we decided to work in the Nishikigoi business because it was something we were always interested in. At first, the whole family went out to turn the rice paddies into ponds and put efforts in making improvements to produce good Koi. We really worked hard at it, and after all the efforts, we were finally able to produce highly appreciated Koi. However, all the production went down with last year's earthquake. Most all of the ponds were destroyed. Only 10 or 20% of ponds left were usable. Aftershocks could cause more cracks in the ground, so we had to transfer the remaining Koi to safe ponds; that took a week. But we were lucky it wasn't worse. The ponds with oyagoi weren't damaged. We restored 70% of our business by using our own repaired ponds and ponds that we borrowed from others. But probably because of the effects of the earthquake, Koi didn't spawn as expected.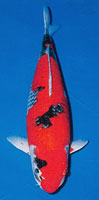 We currently produce a wide variety of Koi such as Gosanke, Goshiki, Asagi, Shusui, Koromo, Kujaku, Doitsu Yamabuki, Ochibashigure, and Doitsu Shigure. When we started our business, we gained ground with Kohaku and Taisho Sanshoku and went on to breed Ogon, Kujaku and other varieties. We have many varieties of Koi in our ponds. You can compare a lot of Koi at one time, so it makes it easy for beginners to study them.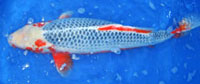 Our Asagi and Goshiki are highly appraised by many Koi lovers. It is generally said that sandy soil is better for Asagi, but I acquired good oyagoi and raised them with much care in argilliferous soil. As a result, I won an award in the 17th competition of 1986 and have won several since then. I was also successful in selecting good Goshiki oyagoi. They grew into very nice Koi. They have become our strongest seller and have gained international popularity. Our high-quality Koi have silver shining patterns in the back fin and a long, stretched body. I will continue to produce many Koi like these. I want to produce good quality Koi with lasting body conformation and to hopefully win the championship with them.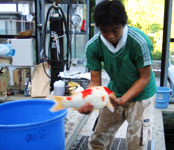 There are so many varieties of Koi and preferences of Koi lovers. There are people who buy one expensive Koi, and there are those who buy economical Koi. Different people have different ways of enjoying Koi. I think it would be interesting if I could invent a production system that responds to the individual needs of the customers. For example, for those who place importance on the price I will produce various kinds of economical Koi, while for the interests of professionals, I will produce expensive but first-class Koi. My ideal system is one which integrates supply and demand. I have been thinking perhaps it is important to focus on limited varieties of Koi. Valuing the Hosokai Koi Farm image that I have created up to now, I will keep making efforts in producing good Koi and will seek a number of possibilities that respond to my customers' requests.