Featured Breeder
Teruo Hiroi (Marusaka Koi Farm)

---

Since Marusaka's Taisho Sanshoku (Sanke) won the category champion at the All Japan Nishikigoi Show in 1947, it has been called Marusaka Sanke. The family is committed to raising a Marusaka Sanke that will once again sweep through the Nishikogi world. Marusaka Koi Farm is also known as one of Niigata's few Midorigoi breeders.

---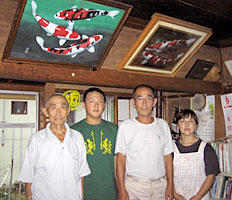 My father launched the Nishikigoi business to conform to the Nishikigoi boom of the 1950s. Since Miyakoya, pioneer of the Nishikigoi business in the area and founder of the first wholesale market in Niigata, and Izumiya are our relatives, my family naturally went into the Nishikigoi industry. The roads were not paved at the time, and it took more than 3 days for my father to only deliver the Koi, so I helped him from a young age. I already owned a pond when I was in my higher-grade at elementary school. My family had many rice paddies inherited from our ancestors. There were swords and antique documents stored at the head family, so I believe we were a samurai family. Most of the swords were taken up during the war, but there are still many documents left.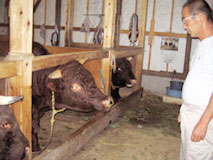 In the spirit of cherishing antique things, we started keeping fighting bulls this year. Bull fighting*1 is a traditional event that comes down from the ancient days in the Yamakoshi area, but unfortunately it has faded after the earthquake. Nishikigoi and bull fighting are both tradition and culture. I believe it is important to preserve them and pass them on to the next generation.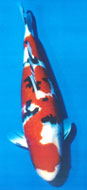 At first, I produced many Hikarimono, but when I was 16, I bought a Jinbei Sanke oyagoi from Izumiya and started producing Sanke. For about 2 years, I crossed Sankes, but I didn't have much luck. So I crossed a male Kohaku with my Sanke, and a very beautiful Koi was born, and I finally was able to produce an All Japan category champion Sanke. At the time, only the owner names were announced, and the breeders were not publicized. But I became known as the breeder who makes beautiful, long-living Koi, and my Sanke was named the Marusaka Sanke. Marusaka Sanke's characteristic is the shiny and almost translucent shiroji. We, as a family, are now working with full efforts to create a Sanke that will win the overall championship.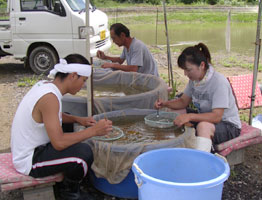 My eldest son, Teruyuki, also wants to produce a prize-winning Sanke. When he was a child, he helped select Koi based on standards that we gave him, but now he believes in his own sensitivity and uses 2 rice paddies to raise his own Koi. Teruyuki was in training for a year after graduating from high school. He began working at the farm in April, so now 3 generations of our family are dedicated to producing Marusaka Sanke. Besides Sanke, we produce Midorigoi and Hikarimono for international Koi lovers to enjoy. We began producing Midorigoi 4 years ago. Usually when you cross Wagoi and Doitsugo, you get many Doitsugoi with unequal scales, but we were lucky and got half-and-half of the good and bad types. So we picked out the good Koi and made our Midorigoi. In Niigata, I think Tazawa-san and our farm are the only Midorigoi breeders.
I love watching beautiful Koi swim. Tropical fish is beautiful, too, but the fascination of Nishikigoi is not only its beauty but also its size. I will keep producing many Nishikogoi so that worldwide Koi lovers can enjoy them.