Featured Breeder
Tsuyoshi Kawakami(Urakawa Koi Farm)

---

Urakawa Koi Farm is an old-established business founded in 1917. The world-famous "Torazo Sanshoku" and "Torazo Kohaku" are brand Koi produced by this distinguished farm. The third generation family head, Tsuyoshi Kawakami, has inherited the genealogy in producing mainly Kohaku and has won various awards at Koi Shows throughout Japan.

---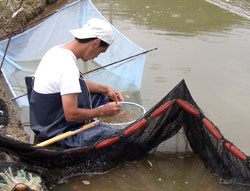 Urakawa Koi Farm is located in Urae, Ojiya City, Niigata Prefecture and was founded by my ancestors in 1917. I am the third generation. On graduating from high school in 1978, I started working in the Koi business. From spring to fall for the first three years, I was trained by my predecessors. During the winter, I received training at Ginsuien in Fukuoka Prefecture. Afterwards, I produced Torazo Sanshoku and Torazo Kohaku with my predecessors and learned how to raise and assess Nishikigoi. In other words, I acquired "breeding abilities" and "selection abilities". This area was struck by the Niigata Earthquake of 2004, but fortunately our oyagoi were safe, and presently we produce Kohaku, Showa Sanshoku, Shiro Utsuri, and Goshiki.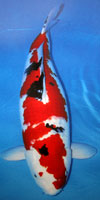 Urakawa Koi Farm's famous "Torazo Sanshoku is based on the Torazo Sanshoku that my predecessor, Hiroshi Kawakami, produced from 1949 to 1952. The oyagoi died in an accident, so we had to discontinue production with the original parents, but we still use oyagoi of that genealogy. The characteristic of Torazo Sanshoku is solid sumi. In the old days, it was hard to get good sumi. Torazo was able to maintain the tsubozumi, which is the beauty of Taisho Sanshoku, as it was because the sumi in Torazo didn't fade away as it grew. Nowadays, we are reducing production of them because they don't grow very big, but the sumi itself is as good as that of the original Torazo.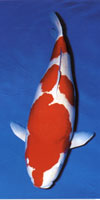 Our other famous "Torazo Kohaku" has its roots in the crossing of the Dainichi Kohaku and Murata Kohaku from Chiba Prefecture done 10 years ago. In producing Torazo Kohaku, we place an emphasis on selecting oyagoi, that is, we try to select and cross oyagoi with different types of beni quality. For example, if the female parent has clear hi, the male should have dark hi, or if the female has dull beni, we would select a male with solid beni. We try various things in the process of selection and crossing. What I focus on most in the quality of beni is its gloss. The ideal Kohaku is one that has glossy and lustered beni.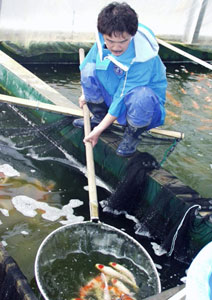 I prioritize oyagoi selection in Nishikigoi production. As I mentioned earlier I try various things in the production process, but since my ultimate goal is to exhibit in Koi Shows, I cannot choose a slim Koi as an oyagoi just because it has good quality and nice patterns. My criteria for choosing a Koi is a round body and a genealogy that has the potential of growing. Especially at recent shows, it is almost a requirement for a Koi to be big and to have a dignified presence. Speaking in that regards, the Kohaku I exhibited at the 38th "All Japan Show" held by Zen Nippon Airinkai in 2002 grew to be 90 cm (36 inches) at the age of 7, so that was really good.
My future goal is to of course win the Grand Champion at a national Koi show. Many young and fine Koi are being exported overseas nowadays. National Koi shows that, at the present, accept entries only from Koi living within Japan will sooner or later start accepting Koi from all over the world. And it will become the world show. So I would eventually aim to becoming the Champion at a world show.
I would like for worldwide Koi lovers to think again that to raise good Nishikigoi, a good pond is essential. If the pond, in other words "breeding environment", is bad, the best Koi in the world can get sick. It seems to me that there are many Koi lovers who spend a lot of money on the Nishikigoi itself but few who spend it on the pond. Perhaps it is a blind spot. To enjoy Nishikigoi, you need to keep them in a "fine pond." We do are best in producing good Koi, so we would be very happy if the Koi lovers maintain their ponds very carefully.