Hajime Isa (Isa Koi Farm)
Chairman, International Nishikigoi Promotion Association
Niigata Regional Permanent Advisor, All Japan Nishikigoi Promotion
Association

---

Isa was born in Ojiya-shi, Niigata in 1945. After working at an agricultural cooperative, he established Isa Koi Farm in 1970. He has won various awards including the Kokugyo Award for his Showa Sanshoku.

---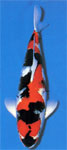 To those visiting the INPC website, please allow me to introduce myself.
My father used to raise Nishikigoi as a hobby. When I was 25, I decided to become a breeder and set up Isa Koi Farm. I did all the breeding myself, but I didn't have much difficulties because I was blessed with good Koi from the beginning.
Starting with Kohaku, for the first few years I just kept buying and selling because I didn't have many skills. But afterwards, I worked hard and built many field ponds. I raised Kohaku for the first dozen years or so and then went on to breed Showa Sanshoku. Fortunately, I had the honor of winning the Kokugyo Award for my Showa Sanshoku. I believe I was awarded the prize because I created a big, nicely-shaped, 32 inch Showa Sanshoku. Until then, Showa Sanshoku was known to only grow solid and small.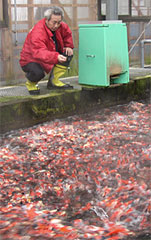 I currently breed Showa Sanshoku, Kohaku, and Taisho Sanshoku (Sanke), but more than 70% is Showa Sanshoku. There are still many possibilities in improving the development of Sumi and such of Showa Sanshoku. I'm working hard to create more champion-class Showa Sanshoku.


I believe that the breeders should not become public, so I personally have never advertised in magazines. In this field, Nishikgoi will do the adverting. There is no point in advertising if you create bad Koi. If Koi make their way in the world, the breeders will become recognized as well.
Thanks to everything, I have a steady clientele that visits me every year. I believe that is a result of producing good Koi.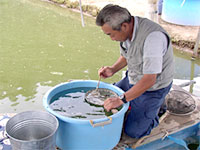 The key to Nishikioi is their body conformation and quality. Their body conformation is especially important. As a Nishikigoi breeder, I wish to continue creating Nishikigoi that possess natural beauty and that become better every time they are refined. The value of a breeder is in his or her ability to supply good material.
I will keep supplying good material, so please raise them with much love and care.