Featured Breeder
Katsuyuki Kawakami(Kawakami Koi Farm)

---

Located in Urae, Ojiya city, Kawakami Koi Farm is a historic Koi farm that has continued for four generations. They have gained fame for always producing high-quality Koi such as the Goshiki that won Kokugyo prize at the All Japan Combined Nishikigoi Show in the past. Currently, Katsuyuki, the third generation, and Takashi and Koji, the fourth generations, are involved in the production of Nishikigoi and are producing up to twenty varieties of Koi including Gonsanke, Utsurimono, and Koromo.

---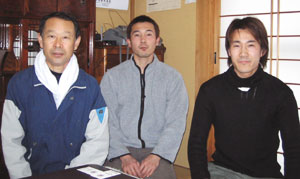 Kawakami Koi Farm was founded by Jirosuke, my grandfather and the first generation of the farm, early in Showa (1926-1989) as a Nishikigoi wholesaler. At the time, Nishikigoi were put into food tray carriers and transported to prefectures such as Toyama and Gifu, which took one to two days. Around 1955, my father Masaru started to focus more energy on Nishikigoi distribution, while I, upon graduating from high school in 1965, began to get involved in our family Nishikigoi business. We took advantage of being closely located to Ojiya Station, stocking Koi from the whole area of Yamakoshi and shipping them out to nationwide Nishikigoi dealers upon request. We were a Nishikigoi wholesaler at the time, but later on in 1975, we started Nishikigoi production in full swing. We always have produced many varieties just like we do now.
As well as producing numerous varieties of Koi as always, we had been increasing the quantity of production lately: approximately 100,000 tosai and 20,000 nisai. However, we suffered damages from the 2004 Niigata Chuetsu Earthquake such as losing our oyagoi and field ponds, so we had to decrease production. But we have now restocked oyagoi, and approximately sixty percent of the field ponds are restored; I can say that about half of our business is back to normal.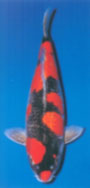 We currently produce twenty varieties including Gosanke, Utsurimono, and Koromo: to be more precise, Kohaku, Taisho Sanshoku, Showa Sanshoku, Doitsu Showa, Doitsu Hariwake, Doitsu Yamato Nishiki, Doitsu Kigoi, Kujaku, Ginrin Kohaku, Ginrin Showa, Goshiki, Aigoromo, Tancho, Asagi, Shusui, Shiroutsuri, Yamabuki, Chagoi, Kumonryu, and Beni Kumonryu. When producing numerous varieties, there is always a tendency to focus more on a certain variety than on another, but we put efforts in all of them. We do not show favoritism toward a specific variety; we treat all Koi of all varieties equally. We do not sell one Koi at a time. We want our customers to buy a mixture of many varieties in big quantities, so all of them have to be of high quality. That is why we are committed to taking care of our Koi everyday. We have won Kokugyo awards at the All Japan Combined Nishikigoi Show with our Koi such as Goshishi, but I believe we won the award because we raise our Koi in an unselfish and attentive manner, not because we try to make a prize-winning Koi.
Since establishment of Kawakami Koi Farm, our everlasting goal has been to raise a "common" Nishikigoi than to raise a prize-winning Nishikigoi. I believe the basis of this comes from my grandfather. When he was a "Nishikigoi dealer," he established credibility by treating the Nishikigoi he stocked with great care and then delivering them to nationwide dealers. We currently export 90% of our Nishikigoi, so we try to produce colorful and pretty ones. We especially put efforts in trying to produce Koi that have clear patterns from the tosai and nisai stage, in other words "young and beautiful Koi."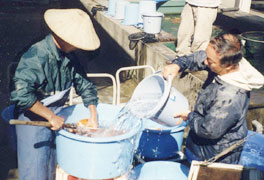 Our current goal is to enhance the quality level of all varieties that we breed. For example, we want to produce better Koi by trying different things in oyagoi selection or in pond sizes. My sons, Takafumi (27 years old) and Koji (25 years old) help me in the production of Koi. "Keeping in mind what our grandfather and father have done up until now, we want to meet the needs of our customers who come looking for our Koi because that is our policy. And if we can afford it, we would like to produce Koi that will win at a Koi show." That is what my sons say. They keep up the family tradition and at the same time try to make improvements in the Koi.
I would like overseas Koi lovers to enjoy Nishikigoi in their own ways. I of course think that paying a lot of money to obtain a beautiful Nishikigoi for your pond is a way of enjoyment. But no matter how good or bad your Nishikigoi is, I as a breeder would be pleased if watching your Nishikigoi swimming in your own pond becomes a part of your daily life.