Featured Breeder
Tdashi Iwashita(Iwashita Koi Farm)

---

Mr. Iwashita became involved in the production of Nishikigoi after having experienced a variety of professions. He focuses on the production of Koi that cannot be seen at other Koi farms; he has created new varieties such as Ginrin Asagi and Ginrin Shiroutsuri. His concept is "a complete lineup;" he currently produces more than eighty varieties and maintains a unique approach towards Nishikigoi.

---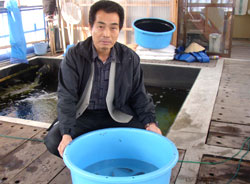 Before getting involved in the Nishikigoi business, I worked in businesses such as knitting mills, golf link constructions, carpentry, ad agencies, and sewing machine sales. I wasn't especially interested in Nishikigoi, but in the early 1960s when I was selling sewing machines in the Niigata area, customers told me "to bring Koi instead of sewing machines." That is how I got into the Koi business. Those years were the height of Japan's economic boom; many land and baron were constructing luxurious palaces, and there was an increase in the demand for Nishikigoi which add color to garden ponds. Since I was from Yamakoshi Village, everywhere I went to sell sewing machines, everybody asked me to bring Nishikigoi. So I started to bring them out of necessity, and that was the dawn of my getting involved in this business. Afterwards Nishikigoi sales picked up, and in 1965 I hung up my shingle as Iwashita Koi Farm. I didn't receive training from anybody at first because I believe that in the case of Nishikigoi there is no textbook. "It is something that one cannot learn from somebody else." In this business, you cannot succeed just by following instructions given by somebody. That is why I think the experience of naturally cultivating "an eye" on how to judge Koi while walking through the Yamakoshi region to sell them to my customers during my years as a sewing machine salesman still is valuable. If you are in the Koi business from the beginning, you may not have many chances to visit other Koi farms, but in my case I visited a number of Koi farms and saw many Nishikigoi with my own eyes, so I am confident on that point.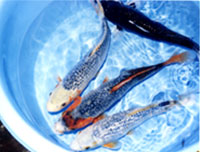 In the early days of the farm, I produced only Kohaku and Taisho Sanshoku, but I now produce a number of varieties such as Ginrin Asahi, Ginrin Shiroutsuri, Ginrin Hajiro, Goshiki, Ochibashigure, Ginrin Ochibashigure, Kin Kikokuryu, Hikarimoyo, and Kawarimoyo. The reason for producing so many varieties is simple: I aim for "Koi lovers to come to my pond and see my Koi." There are many Koi farms in the Mushikame region of Yamakoshi, and a large number of Koi lovers come to this area every year. Not only did I want them to stop by during their visit, I also wanted to create a pond that would really catch their attention. That is why I produce varieties you cannot find at other Koi farms. Ginrin Asagi, the Koi representing my farm, was based on such feelings. I used to dry-write "an image of an Asagi" that no one had ever created. After about three years, I found my ideal oyagoi, and that was the start.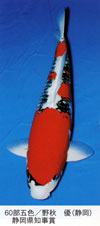 I think the most important thing is for the customers to come to your pond. I just hate it when they hurry off by mumbling "thanks a lot" because there is no Nishikigoi that is worth the value in my pond. I put efforts in creating "Koi that nobody has" to attract the customers' eyes; precisely the reason Iwashita Koi Farm currently has a line-up of eighty varieties.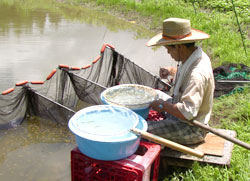 I still think that Nishikigoi production does not work the way I want; it is difficult. However, if that wasn't the case, I probably wouldn't feel the satisfaction when a promising Koi really becomes a success or feel the pleasure of hearing a customer asking me to sell a certain Koi. "What is difficult is interesting," so I will not stop the challenge to produce new Koi that people do not have. The crossing I'm challenging this time is of a male clownfish and a Shusui female. Perhaps you may not be able to image the grown figure of such Koi, but I feel grateful when I produce Koi that nobody can image; I hope you will look forward to it.
I want worldwide Koi lovers to devote a lot of attention to your own Nishikigoi. That's all I ask. I ask for Koi lovers, whether in Japan or overseas, to raise their Nishikigoi gently and with love. If I had to stress a difference between worldwide Koi lovers and those in Japan, it would be that worldwide Koi lovers are interested in a wide variety of Koi. We always have numerous varieties, so I hope you will make a personal visit to my farm.