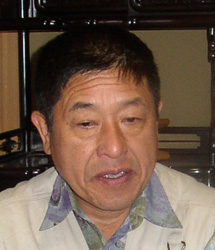 Mr. Tadao Tanaka, President, Yamakoshi Fisheries Cooperative Union

<Kodama> How is the post-disaster situation of the union members?
<Tanaka> The truth is that even after a month after the earthquake, we haven't been able to realize the degree of damage we have been suffering. I belong to the Mushikame district, and we are taking shelter in a gymnasium of Meitoku High School in Suidomachi, Nagaoka City. The 180 union members have evacuated to separate shelters in Nagaoka and Ojiya City, so there is no communication among the villages. A month has passed after the quake, but I am still not aware of the situation of the union members.
Almost all of the Koi…probably more than 90 % are gone. Fortunately, the few that survived are being rescued by helicopters at the moment.
<Kodama> How much damage did you receive yourself?
<Tanaka> I am very worried about the union members…but I have my hands full with my family right now. My Koi are all gone. I had moved some Koi to the concrete pond at my house after ikeage. I saw that water was leaking from that pond, so right before I evacuated I transferred them to a mud pond with just enough water left. Then there was an evacuation order for all the village residents. When we were being rescued by helicopters, my Koi in the mud ponds were still alive, but I just knew they would die if they were left behind. As the villagers climbed into the helicopters, I called my son over and told him that I was staying because I had to save my Koi. But I also knew that my staying would cause a lot of trouble, so I had to give that idea up. It was too painful.
When I went home after I was given permission, all of those Koi were dead.
<Kodama> What a horrifying experience. This is going to be a harsh question, but what do you think is going to happen with Yamakoshi's Fisheries Union?
<Tanaka> At the shelter the night we were rescued, I was agonizing not being able to go to sleep because I was too worried about the Koi I had left behind. In the meantime, the sons of Jeem, Marudo, Yagenji went out. I thought "Oh, they're going out to get a drink. Well, they're young…" But later I found out that they had walked 5km (3miles) to Mushikame Hamlet on that collapsed road at dead of the night to look around the hamlet and to add gasoline to the private power generators of ponds in which the Koi had survived.
I couldn't stop crying when I heard this. I was confident that as long as these young ones are with us, Yamakoshi Fisheries Union will not go under. I killed all my Koi, I lost my ponds as well, so there's no choice but to go out of business: I was feeling completely at a loss, assuming that my colleagues were feeling the same way. However, after seeing what these 3 young men did, I felt certain that, with their presence, we would be able to reconstruct Yamakoshi-mura.
<Kodama> That's just wonderful.
<Tanaka> They really encouraged me.
<Kodama> As Union President, how do you think about your heavy responsibilities of reconstructing Yamakoshi's Nishikigoi business?
<Tanaka> I want to go back to Yamakoshi to make ponds. This is my dream, but since there are restrictions for secondary disasters, this may not be possible. The government is investigating the damage right now. After this is finished, there will be some sort of countermeasures. Thinking about in which way the Nishikigoi industry will go will come after that is decided. Our job for now is to not let our strong will for Nishikigoi disappear. The young ones fortunately have that will. Niigata's Nishikigoi will be restored as long as they are with us.
Finally, I would like to take this opportunity to thank everybody who has been supporting us through Nishikigoi Protection Network.